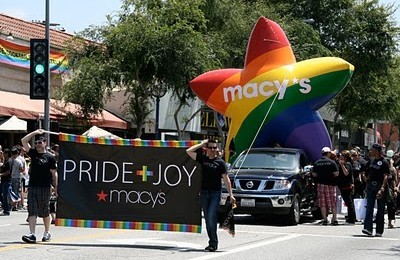 Don't Be Tricked By 'The Magic Of Macy's'
One of Macy's Department Store's Christmas shopping slogans is "A million reasons to Believe." However, Macy's push of the homosexual agenda should give you the onereason needed not to shop at Macy's this Christmas season!
Macy's isn't making headlines for their great deals, but for their policy that has come to light which allows transgender men to change in women's dressing rooms!  (Read below for more information.)
Click here to send a message to Macy's.
Then, forward this email to your family and friends.
Macy's at 2010 Gay Pride Parade:
As reported by our friends at AFA on their news site, OneNewsNow.com:
Macy's is accused of firing an employee who objected to allowing a cross-dresser to use women's dressing rooms in one of its stores.
Natalie Johnson observed a man exiting a women's dressing room in one of San Antonio's several Macy's stores and politely told him he could not re-enter because it was for the exclusive use of women. Mat Staver of Liberty Counsel tells OneNewsNow the male customer — who was wearing make-up and girl's clothing — angrily responded that he was a "female."
"Then [he] contacted the management and said that this was an LGBT-friendly store," the attorney explains. "And to Natalie Johnson's surprise, management took the customer's position and affirmed that it is an LGBT-friendly store and said that according to their policy, 'transgendered' people can change in any dressing room they want."
Johnson pointed out to management the consequences of the policy and the potential danger to women and offensiveness of the policy, as well as that it violated her religious beliefs.  She was fired.
http://www.onenewsnow.com/Culture/Default.aspx?id=1490664
By following Macy's twisted LGBT (lesbian, gay, bi-sexual, transgender) policy, what prevents any man from entering a women's dressing room?  In essence, Macy's has opened up ladies dressing rooms to all men.  Any man, including predators, could claim such a sexual orientation to enter women's dressing rooms!
Ladies, are you comfortable with the idea of men in the dressing room next to you?
Men, would you want your wife or daughter in such a vulnerable position of having men in ladies changing areas while your loved ones undressed?
And, one wonders, how does Macy's policy apply to public restrooms?
Not only is this policy absurd, as it has been called, it is also dangerous – both for personal risk and for the precedence it sets.  Is this a glimpse into the future of where the constant push of the homosexual agenda is taking us – where gender is meaningless in the public arena?
The view that "everyone has a right to their own opinions" defines tolerance – notthat everyone has to accept those opinions as morally right.  As Macy's bends over backwards to appease the fringe LGBT population, it risks alienating millions of customers who don't want their rights and beliefs trampled upon, while their personal safety and that of their loved ones is put in jeopardy in favor of political correctness.
Let Macy's know that until they rescind their policy that elevates such extreme political correctness over the personal safety, privacy, and comfort of all their customers, you will not be a Macy's customer.
Take Action!  Click here to send a message to Macy's president, Terry Lundgren.
http://americandecency.org/take_action_form.php?message=139
We also urge you to call Macy's corporate office and express your concern.
Call:  1-513-579-7000 or 1-800-261-5385.
Macy's, Inc.
Terry J. Lundgren, President
7 W. Seventh Street
Cincinnati, OH  45202
Phone: 513-579-7000
or: 513-579-7764
Toll free: 800-261-5385
Fax: 513-579-7555