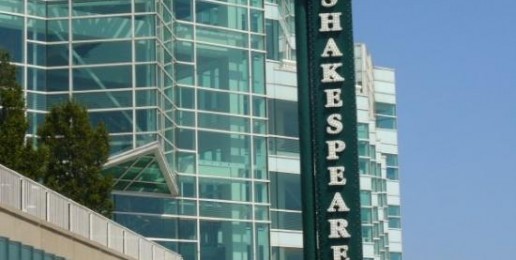 All the Perfumes of Arabia Will Not Sweeten Chicago Shakespeare Theater's Macbeth
I love Chicago Shakespeare Theater. I have seen half a dozen productions at their Navy Pier location and loved every one. I try to attend at least one play a year-as money permits. But this year, I wasted both my time and money.
For any of you who may be thinking of attending Chicago Shakespeare Theater's production of Macbeth — be forewarned. We attended opening night on Friday, and here's what to expect from this modernized travesty:
In the early scene just after Lady Macbeth has read the letter from Macbeth, Lady Macbeth removes her top and performs topless. When Macbeth arrives home, she mounts him and they simulate sex whilst the actor playing Macbeth fondles the actress' bare breasts.
After Macbeth becomes undone by the vision of Banquo's bloody head, Macbeth and Lady Macbeth retreat to their bedchambers where she simulates an act of oral sex.
The three scenes in which the three witches meet Hecate; Lenox and another Lord discuss the state of Denmark; and the witches make their last prophecies are set in a strip club. There is no nudity, but one of the witches wears a top which conceals little, and fishnet stockings and a leather thong over her posterior that she gyrates like a professional stripper.
Take ACTION: Contact Chicago Shakespeare Theater to let them know that you will not be attending this production by calling the theater directly at 312-595-5656.
Objections to the vulgarity in this interpretation of Macbeth do not constitute provincial philistinism. And the performance of the actress who played Lady Macbeth was not a brave performance. The actress was degraded and objectified. Her exhibition of her body and her willingness to be publicly fondled was disgraceful and distracting. If it is brave and justifiable to so exhibit and exploit one's body, then we best stop telling our children that the parts of their anatomy that are inherently sexual are their "private parts."
For an actress to be willing to bare her breasts in front of hundreds of strangers night after night and allow a man who is neither her husband nor even a boyfriend to fondle her suggests a Gnostic view of the human person-one which separates the physical body from the spiritual self. This is a deeply troubling and erroneous dualistic view of the human person. Our physical selves are inextricably linked to our immaterial spiritual selves.
Despite what many within our "artistic" communities may claim, "art," or rather some contemporary misconception of art, is not an ultimate value. It does not transcend or supersede the objective truth that our bodies are not for public display or public consumption.
Clearly, the artistic staff at Chicago Shakespeare Theater does not concern itself with the possibility that viewers may be deeply offended by such obscenity. They evidently have no concern that parents may bring their middle school or high school age children to the play. Nor do they seem to take into account the real possibility that there may be people who struggle mightily against porn addiction and consciously avoid graphic sexual imagery.
For those community members who wish to participate in some minimal way in shaping the culture in which we all have a stake, here are two other concrete steps that Illinois Family Institute is recommending:
Chicago Shakespeare Theatre performs matinees for only students. I asked the staff if they were including the soft-core porn scenes in the student matinees. They responded that "There are going to be some changes." If you know any schools that are taking students to this production, IFI is urging you to either call Chicago Shakespeare Theater yourself or ask the school sponsors to call and ask pointed questions about how specifically these scenes will be changed.
Email your friends to do likewise.