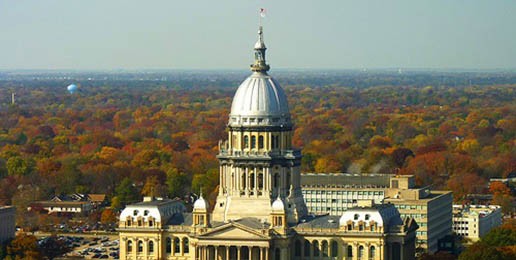 Headed Back to Springfield
The work to stop the redefinition of marriage (SB10) is not just about defending God's institution of marriage. It's about the best interests and rights of children and natural families, the health of communities, and individual religious liberties. It's about standing up and speaking out about the war on conservative people of faith and the attack on our civil rights to freely practice our faith and live according to our conscience. 
Same-sex "marriage" proponents deny that children have a right to be raised by both a mother and a father—preferably their own biological mother and father. The selfish desires of adults in inherently sterile relationships who want to recreate the natural family trump the rights of children to be raised by their biological parents. 
There is a chance that SB 10 will be called for a vote later this month during the first three days of the veto session (Oct.22-24). However, LGBT proponents are divided on when to call this bill for a vote. One camp wants a vote just to get an official roll call and to identify the lawmakers they need to work on. But this could backfire as they are still short the votes necessary to pass it. In addition, it would certainly be national news to have same-sex marriage fail in deep-blue Illinois. That is why other LGBT proponents are on record saying they should not call the bill until they are absolutely certain they have 60 votes.  
When the fall veto session begins in less than two weeks, we can help put an end to this pernicious effort to destroy true marriage by sending a strong, clear message to our state lawmakers:  "You do not have the moral authority to redefine marriage!"
But in order to do that, we need your support.  Here are three ways you can help: 
Take ACTION:  Click HERE to send an email or fax to your state representative today.  Ask him/her to stand firmly and courageously against SB 10, and warn him/her not to be persuaded by the emotionally manipulative and intellectually hollow rhetoric of the homosexual lobby. 


Join us at the Capitol in Springfield on October 23rd for our Defend Marriage Lobby Day. We need thousands of like-minded people from every corner of the state. If you would like to find a bus that is traveling to the Capitol, please click HERE. If you a chartering a bus and it is not on our list, please call us with the details at (708) 781-9328. 


Click HERE to chip in $10 or $15 today and make sure Illinois Family Institute has the resources we need to mobilize supporters of natural marriage across the state in the days before the fall veto session. Your contribution matters.
God tells us in Proverbs that "a righteous man who gives way before the wicked" is "like a muddied spring or a polluted fountain."
We must remain vigilant and must continue to speak out against these efforts to redefine God's institution of marriage. We cannot afford to remain silent as the Left continues to attack this critical social institution. 
With less than two weeks left before the start of the legislature's veto session, we must continue building support for the freedom to marry. 
Your contribution of $10 or more today will help Illinois Family Institute continue to run the strongest possible campaign to ensure victory in the veto session. 
Thank you for everything you're doing to stand for the family. 
David E. Smith, Executive Director
Illinois Family Institute
P.O. Box 88848
Carol Stream, Illinois  60188 
P.S. We only have two weeks left until the first day of the veto session on October 22nd. Please, click HERE to contribute what you can today. Thank you.