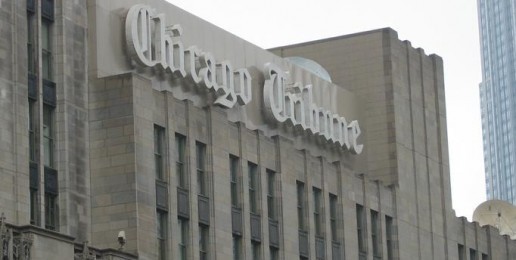 Chicago Tribune's Rex Huppke Gaga for Homosexuality
Rex Huppke, who purports to be a reporter for the Chicago Tribune, but is, in reality, a mouthpiece for homosexual activism, has written yet another propaganda piece about homosexuality. Huppke wrote an article — not an opinion piece — but an article that doesn't even attempt a pretense of objectivity.
In language dripping with bias, Huppke wrote about the plight of Americans who define their identity by their homosexual desires and behavior and who have non-American sexual partners. Huppke wrote a thinly disguised endorsement of U.S. Rep. Luis Gutierrez' disastrous immigration reform proposal which would allow "foreign-born partners of gay and lesbian Americans the same path to citizenship as heterosexual spouses." It was an endorsement so thinly disguised it could be mistaken for a bare-naked, Hollywood-produced public service announcement.
Congressman Gutierrez — and evidently his PR accomplice Huppke — seeks to write into law the unproven, a-historical assumption that relationships defined by unnatural homosexual desire and immoral homosexual acts are morally equivalent to heterosexual relationships.
In a 747-word article, Huppke allotted a whopping 21 words to an acknowledgment that opposing views exist. This is the entirety of his commitment to presenting both sides:
Invariably the addition of language to benefit same-sex couples will rile some who oppose extending marriage rights to gays and lesbians.
Here are some additional telling stats from the impartial, unbiased reporter Rex Huppke:
Number of quotes from Gutierrez: 4
Number of quotes from supervising attorney for the National Asylum Partnership on Sexual Minorities at the National Immigrant Justice Center in Chicago (yes, apparently, such a center exists): 2
Number of quotes from homosexuals who have foreign-born partners: 3
Number of quotes from opponents of Gutierrez' proposal: 0
It's not merely the inclusion of quotes from only supporters of the proposal that is problematic; it's also the soap opera-esque content that is troubling.
Huppke quoted Gutierrez who said that "The underlying part of any comprehensive immigration bill is family unity." This language manipulates Americans' deep respect for family and family unity while ignoring the disturbing embedded assumption that two homosexual men constitute a "family" that per se deserves respect.
Huppke then quoted a homosexual Episcopal priest who frets about the possibility of his homosexual paramour being deported:
You can't imagine the stress we live under daily…To wake up every morning and think this could be the day that we no longer have the resources or support to be together.
And then Huppke delivered his coup de grace in a concluding tear-jerking anecdote. Have your hankies at the ready:
For Josh Lampinen, a 30-year-old Chicago Web designer, a change in the law couldn't come soon enough. His fiance, Jerome Lienard, lives in France, and the couple are struggling to find a way to be together.

…

Lampinen said the distance between them is always a strain, particularly in times of crisis. A year and a half ago, Lampinen's grandmother died, and Lienard couldn't be by his side.

"That's when you want your partner there," Lampinen said. "And he wasn't. It just wasn't possible. It's instances like that that just make it evident how unfair this situation is."
Unfortunately, in an increasingly non-rational, non-thinking culture, appeals to such tales of woe carry persuasive power. It is these kinds of "narratives" that are shaping the views of even conservative Christians, particularly younger Christians who are not being taught to think critically. As Thomas Sowell, African American Senior Fellow at Stanford's Hoover Institution, writes:
The problem isn't that Johnny can't read. The problem isn't even that Johnny can't think. The problem is that Johnny doesn't know what thinking is; he confuses it with feeling.
Huppke reported that Gutierrez met with "LGBT community leaders at noon on Monday at the [homosexual] Center on Halsted" where he was joined in his confab by U.S. Rep. Mike Quigley (D-IL) and openly homosexual Rep. Jared Polis (D-CO).
Some concluding and random thoughts:
Appeals to emotion are not reasons.
The presence of sad feelings tells us precisely nothing about the morality of homosexuality — or any other moral issue.
The presence of emotional and sexual feelings and sexual interactions between two (or more) people does not render their relationship a family structure worthy of affirmation or legal status.
Rex Huppke is not reporting; he is cheerleading and proselytizing.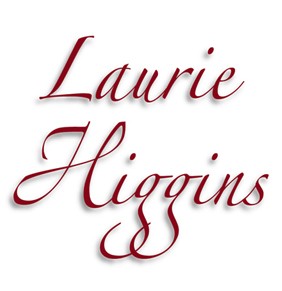 Related Articles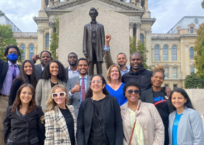 Should Violent Prisoners Vote in Illinois Elections?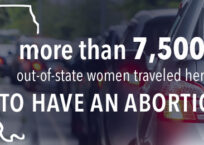 Illinois' Pro-Human Slaughter Devotees Help Out-of-State Abortion Seekers