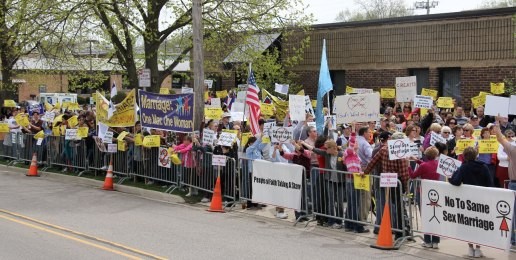 Hundreds Rally in Downers Grove and Elsewhere to Support Natural Marriage
Reading Time:
2
minutes
On Saturday, May 4, an estimated three hundred people gathered in front Representative Ron Sandack's district office in Downers Grove to express their support for God's definition of marriage. Sandack is one of two Republicans in the Illinois House of Representatives who have broken with their party to support "marriage" between same-sex couples. The rally was filled with speeches from pastors, patriotic songs, and continual chants of "one man, one woman."
Representative Sandack made a brief appearance to address the crowd. Unfortunately, the representative confirmed his previously known support for same-sex "marriage," making it clear he is not going to change his mind. The crowd responded with boos.
Approximately forty counter-protestors appeared to express their disdain for the pro-marriage rally's message. They repeatedly attempted to interrupt the rally with chants of "equality" and "separation of church and state." Ironically, several "pastors" who support same-sex marriage were present.
Also on May 4, in Elgin, hundreds of Hispanic people gathered in prayer for natural marriage.
In addition, on April 27, hundreds gathered in Humboldt Park in a peaceful march for the protection of God-ordained marriage. The purpose was to send a strong message to the representatives in the surrounding areas.