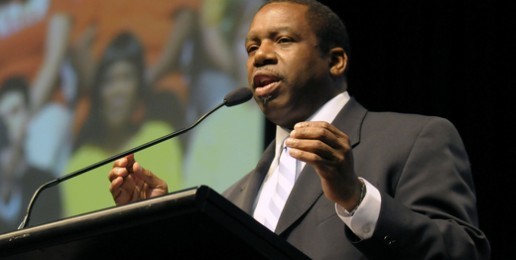 CHICAGO BLACK CLERGY ROLL OUT RADIO ADS OPPOSING SAME SEX MARRIAGE
By Sean Howard
Members of a new coalition of Cook County African-American clergymen have officially begun running radio ads across African American radio stations opposing the pending same sex marriage bill in Illinois. The group, the African American Clergy Coalition (AACC), will launch 60 second commercials.
The group has also begun a major street campaign in African American communities throughout Cook County. The goal of the street campaign is to engage as many African Americans to call their area legislators and tell them to vote NO on SB 10, the Redefinition of Marriage Bill.
In addition, the AACC has also begun robo-calling into Cook County African American households. Over 200,000 calls were recently placed to African American households featuring Pastor James T. Meeks, Senior Pastor of the Salem Baptist Church of Chicago. The AACC public relations campaign will extend throughout the current legislative session in Springfield, which is scheduled to conclude on May 31st.
The AACC consist of hundreds of black clergymen throughout Cook County and beyond. The Coalition is not limited to just African American Clergymen, but other non African American Clergymen who preside over diverse congregations. The Inter-denominational group plans to purchase newspaper ads immediately as well as travel to Springfield to lobby African American legislators.
On March 7th, the AACC, along with key members of the Catholic Conference of Illinois and representatives of the Lutheran Church-Missouri Synod, presented to the Chicagoland media their public relations campaign designed to voice opposition to the redefinition of marriage bill pending in the Illinois House of Representatives.
The campaign was organized to focus on the African-American community in an effort to attract support of traditional marriage in Illinois. The campaign includes legislative lobbying, radio ads, public access television ads, field operations, a website and phone banking/robo calls.
The newly formed alliance is unified in its opposition to the possible passage of redefinition of marriage legislation in Illinois. The legislation previously passed the Illinois Senate, and is now before the Illinois House.
"We are extremely happy to be joined by the Catholic Conference of Illinois and Lutheran Church-Missouri Synod in launching a statewide campaign rallying African-American clergymen and congregants to voice their opposition to the pending redefinition of marriage bill in the Illinois House," says Bishop Lance Davis, senior pastor of the New Zion Christian Fellowship of Dolton and founder and CEO of Voices of Morality.
Bishop Larry Trotter, senior pastor of the Sweet Holy Spirit Church of Chicago and Presiding Bishop of the New Century Fellowship Churches International, agreed.
"We stand united with our brothers and sisters of the Catholic faith and Lutheran Church-Missouri Synod in our joint opposition to any deviation from traditional marriages of male and female, notwithstanding the rulings of the court systems of the land or acts of legislative bodies in support of same-sex 'marriage,'" Trotter said. "I applaud the Catholic Conference of Illinois and Lutheran Church-Missouri Synod in extending their support to us in this historic endeavor."
Archdiocese of Chicago Auxiliary Bishop Joseph Perry applauded the initiative.
"We're happy to join with other faiths as we work to preserve marriage as it is now, as it has been, and how it should always be – between one man and one woman," Perry said.
Rev. Kirk Clayton, pastor of a Lutheran Church-Missouri Synod church in the southern Illinois town of Mascoutah, echoed the sentiments of his spiritual colleagues.
"Since marriage pre-dates any government, no government should presume to change God's definition," Clayton said. "What God therefore has defined, let not man re-define. I am pleased to stand with my friends of various faith traditions to support God's blessed plan for marriage."
(Pastor Clayton was unable to attend the press conference due to a scheduling conflict.)