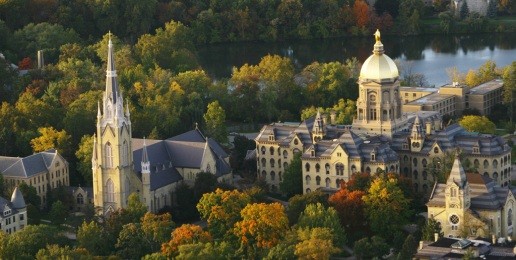 Pro-Lifers Urge Notre Dame to Choose Life
Reading Time:
< 1
minute
By Charlie Butts –OneNewsNow.com
A petition drive has been launched to convince Notre Dame's president to drop charges against pro-life demonstrators.
The demonstrations took place in May, leading up to a graduation speech by President Obama, who has been described by some as the most pro-abortion president in American history. Eighty-eight pro-life protesters were jailed, including Alan Keyes, Norma McCorvey — who was the Roe in Roe v. Wade decision that legalized abortion — and an elderly priest. John Ritchie of The American Society for the Defense of Tradition, Family and Property Student Action notes that the arrests seem unfair.
"And witnesses who were there say that the pro-Obama representatives were allowed to roam free on campus, so that seems like a shocking contradiction how on one hand you have those who support abortion roaming free, and those who oppose abortion at a Catholic university would actually be punished [for] praying the rosary and holding signs that defend innocent life," Ritchie notes the irony.
At the time of their arrests in May, all of the arrested were jailed briefly. Ritchie is convinced that since the university is officially pro-life, the least that university president John Jenkins could do is drop charges. The petition is located on the student organization's website.