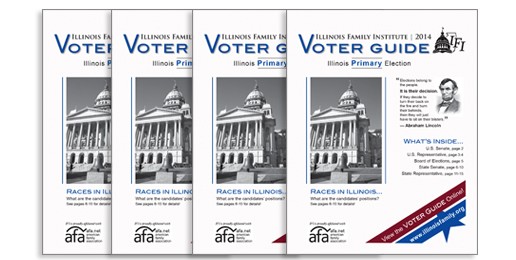 Voter Guides Are In — Order Them in Bulk Today!
Reading Time:
2
minutes
The print version of the IFI Voter Guide are in and going fast!  If you haven't yet placed a bulk order, please give us a call at the IFI office today at (708) 781-9328 or click HERE to send us an email. These non-partisan Voter Guides comply with IRS guidelines and are legal for churches to distribute. Or you may simply want them to pass along to neighbors, co-workers and family.
It's critical that people be informed voters when they go to the polls for the March 18th Primary Election.  Candidates for Governor, U.S. Senate, state lawmakers and 18 members of the U.S. House of Representatives are up for election.  
We are coming down to the wire.  The election is only one month away.  So don't delay. Call us at (708) 781-9328 or email us today.
Background
Do you and your friends know where the state-wide and federal candidates stand on same-sex marriage, a progressive tax, expanded gambling, comprehensive sex-education and abortion clinic regulations? These guides will be the only way most people get the information they need to make an informed decision. Surprisingly, many will vote only because of this Guide!
But thousands of other Illinois citizens don't know about the IFI Voter Guide. You can help provide them this critical information, in the cause of good government, to make informed choices about all the state and federal candidates on the ballot.
We want to let Illinois citizens know about the availability of the IFI Voter Guide, and we need your help in getting it into the hands of as many voters as we can — so order a dozen or more and give them to your friends, family and co-workers.
Americans have been given incredible blessings and freedoms; and as a result, we have a responsibility to participate in elections. Thank God, we have an opportunity to cast our ballot for men and women whose values represent our own.
With your participation, together we will make a great impact in the state of Illinois, and our republic, one vote at a time. 
---
Our get-out-the-vote campaign is up and running. We are distributing the IFI Primary Voter Guide to hundreds of churches, civic groups and tea party organizations. Will you financially support our endeavor to educate Illinois voters and promote family values?  Donate today.