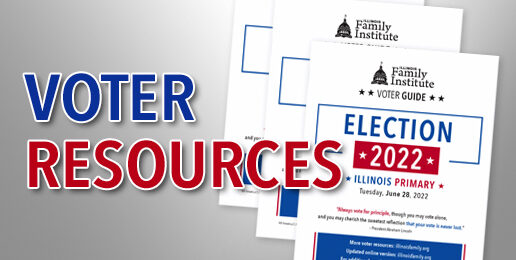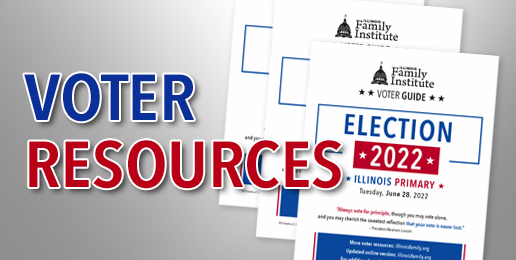 2022 Primary Election Voter Resources
The IFI 2022 Primary Election Voter Guide is available HERE. You will not find this information anywhere else! The online version is updated often. We are completely out of the print version.
In this exclusive guide, you will find the positions of candidates running for U.S. Senate, U.S. House of Representatives, Statewide offices, and both chambers of the Illinois General Assembly regarding issues of importance. Incumbent voting records, completed candidate questionnaires, research, and various organization endorsements went into compiling this voting resource.
IMPORTANT:  Everyone has recently been sent a NEW voter ID card with your NEW district numbers that will go into effect January 2023, and for which candidates are running now. If you have misplaced it, you will want to call your county clerk and ask for your NEW congressional, state senate and state representative district numbers. Make note of them. These 3 numbers are the only ones you will need to maneuver the IFI 2022 Primary Voter Guide. All other races are statewide.
If you have misplaced your NEW voter ID card, click HERE for your county clerk's phone number. Note: If you live in the city of Chicago, Bloomington, Aurora, Galesburg, Peoria, East St. Louis, Rockford, or Danville, call those city executive directors, which are also provided.
Click HERE to find out how your CURRENT state lawmakers voted on other issues not included in the IFI Voter Guide. Click HERE for your CURRENT district numbers.
Another great resource is ivoterguide.com which will be uploaded soon to provide more information not found in the IFI Voter Guide.
For the stark differences between Democratic and Republican Party Platforms, click HERE.
---
Support the IFI Voter Guide
We have been distributing the IFI Voter Guide to hundreds of churches, civic groups and tea party organizations. Will you financially support our endeavor to educate Illinois voters and promote family values?  Donate today.