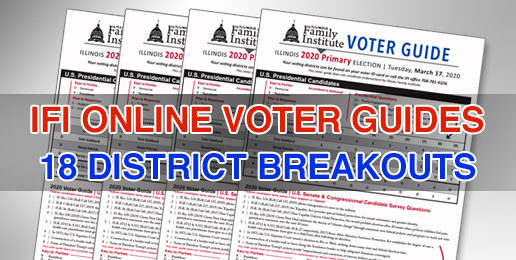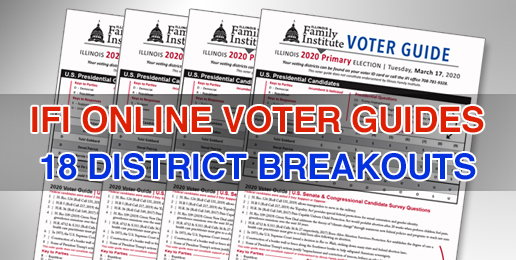 IFI Voter Guide Resources for Primary Election 2020
The full 16-page version of the IFI 2020 Primary Election Voter Guide is available for download HERE.  In this guide you will find important information about candidates for President, U.S. Senate, U.S. House of Representatives, and both chambers of the Illinois General Assembly.
IMPORTANT:  Please take a moment to look up your U.S. Congressional, State Senate and State Representative districts HERE prior to using the IFI Voter Guide. Your U.S. Congressional district is the last one listed under Federal; State Rep is the last one under State and State Senate is just above it. Make a note of your district numbers. These 3 numbers are the only ones you will need. The other races are statewide.
Note: If your state senate district is not listed, it is because only 1/3 of the seats are up for election every two years.
Congressional District Voter Guides are also available!
Listed below, we have 18 two-page local Voter Guides — one for each of Illinois' Congressional Districts. Print these on legal size paper (8.5″ x 14″).
Voter Guide Breakouts:
---
Support the IFI Voter Guide
We have been distributing the IFI Voter Guide to hundreds of churches, civic groups and tea party organizations. Will you financially support our endeavor to educate Illinois voters and promote family values?  Donate today.