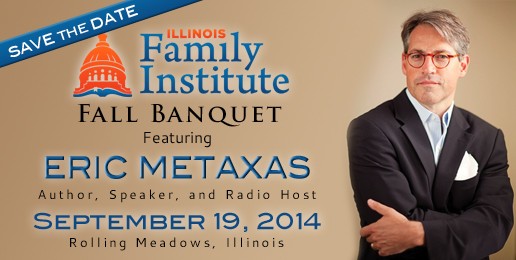 Author of William Wilberforce Biography in Chicago Suburbs, September 19
We are pleased to announce that best-selling author and leading cultural commentator Eric Metaxas will be headlining our 2014 Faith, Family & Freedom Fall Banquet! 
Author of the New York Times #1 bestsellers, Bonhoeffer: Pastor, Martyr, Prophet, Spy, and Amazing Grace: William Wilberforce and the Heroic Campaign to End Slavery. 
Eric's powerful personal testimony and prominent role as one of America's strongest advocates for the need of a Christian witness in the public square are just two reasons you'll want to SAVE THE DATE: Friday, September 19, 2014 in Rolling Meadows, Illinois. 
More details will follow, but as subscriber to Illinois Family Institute, we didn't want you to miss the opportunity to attend what we expect to be a life-changing evening.
To receive the information by mail, please call us at (708) 781-9328 or email contactus@illinoisfamily.org.
Save the Date 
Friday, September 19, 2014 ~ The Meadows Club 
Rolling Meadows, IL ~ 7:00 pm
(Click HERE for a flyer for this event.)