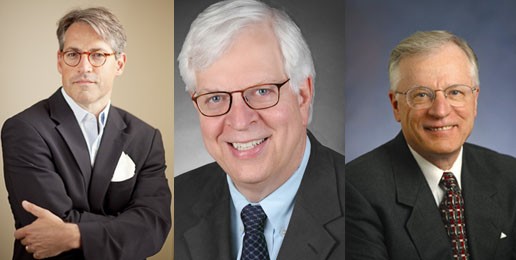 An Evening with Eric Metaxas, Dennis Prager, and Dr. Erwin Lutzer
Reading Time:
2
minutes
Best-selling author Eric Metaxas and syndicated radio show host Dennis Pragerare appearing on stage together for an inter-faith event hosted by Pastor Erwin Lutzer and The Moody Church in Chicago, IL on the evening of Saturday, September 7th at 7:30pm.
The topic: Faith, Morality and Religious Liberty in America
Eric Metaxas is the author of the New York Times #1 bestseller, Bonhoeffer:  Pastor, Martyr, Prophet, Spy, which was named  "Book of the Year" by the ECPA. Metaxas was the keynote speaker at the 2012 National Prayer Breakfast in Washington DC. Metaxas is currently the voice of BreakPoint, a radio commentary (www.breakpoint.org) that is broadcast on 1,400 radio outlets with an audience of eight million.
Dennis Prager (www.dennisprager.com) is one of America's most respected radio talk show hosts. He has been broadcasting on radio in Los Angeles since 1982. His popular show became nationally syndicated in 1999 and airs live, Monday through Friday, 9:00 AM to Noon (Pacific Time) from his home station, KRLA. He is a Jewish author and public intellectual, having taught the Hebrew language and Pentateuch at the college and seminary level
Dr. Erwin W. Lutzer is an evangelical Christian pastor, teacher and author. He is currently the senior pastor of Moody Church, in Chicago, Illinois. His daily radio program "Running To Win" can be heard on Christian radio stations around the country. He is the author of more than 30 books. 
The evening will feature candid, engaging conversation between these three prolific voices in the public square on topics of faith, culture, and the fate of our nation.
Seating is general admission at $25 and doors will open at 7 P.M. 
There will be a VIP reception at The Moody Church at 6:30 P.M. for those who purchase the $75 tickets.
For more information or to register, please click HERE.
Address: 
1635 N. LaSalle
Chicago, IL
60614
Map and Directions
Date: September 7, 2013