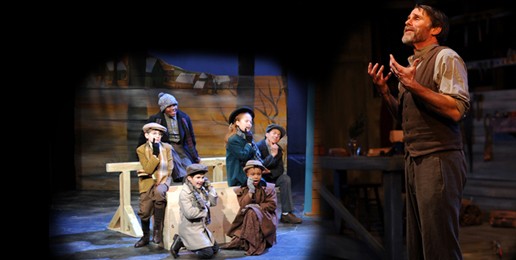 A Holiday Gift: Provision Theater
Reading Time:
2
minutes
There's very little we at IFI can do to repay our many supporters for your prayers, financial gifts, political action, and encouraging words. After a recent theater outing in Chicago, I realized there is something small I can do to thank you for everything you've given to us. I can tell you about a wonderful theater company whose productions are inspiring, edifying, fun, and smart: the Provision Theater Company
If you've never attended a production at the Provision Theater,  you're in for a special treat. Provision Theater is "devoted to producing works of hope, reconciliation and redemption; works that challenge us to explore a life of meaning and purpose." And right now there's a Christmas production perfect for the entire family: The Christmas Miracle of Jonathan Toomey, based on one of the rare Christmas picture books that actually remembers the birth of Jesus.
Here's an excerpt from Chicago Tribune theater critic Chris Jones' review of last year's production of The Christmas Miracle of Jonathan Toomey:
In the story, penned by Susan Wojciechowski and illustrated by P.J. Lynch, the woodcutter (a kind of Scrooge and Grinch rolled into one) encounters a widow and her lonely son, who ask him to carve a set of wooden Nativity figures, so as to replace a lost set that was created by this sad boy's late father. He reluctantly agrees.
This shared pain, coupled, of course, with the miracle of Christmas, slowly thaws Jonathan Toomey's heart and makes for a strikingly emotional new little Christmas musical….At the end of the packed performance I attended last weekend, you could tell from the mood in the audience that the piece had packed for more of an emotional punch than most people expected. That, certainly, was true for moist-eyed me.
…
That formidable emotional wallop comes, in no small part, from Michael Mahler's gorgeous new folk-and-bluegrass score, an apt match for the rural 19th-century American setting and a remarkable melodic and poignant song-suite that puts one in mind of the "Cotton Patch Gospel." It is, all by itself, more than enough to make a trip to Roosevelt Road quite rewarding, especially for those who seek out more spiritual, family-friendly entertainment at this time of year.
Some of Provision Theater's past productions—many of which have garnered critical praise from the Chicago Sun Times and Chicago Tribune as well as multiple Joseph Jefferson award nominations—include The Hiding Place, Shadowlands, C.S. Lewis On Stage, Bonhoeffer's Cost, Shaw vs. Chesterton: The Debate, A Christmas Memory & The Thanksgiving Visitor, and the Cotton Patch Gospel.
Timothy Gregory, founder and artistic director, also writes and acts in productions in between his hosting job on HGTV's New Spaces television program. The relatively new theater space for this eight-year-old theater company is on W. Roosevelt Road near UIC and has its own free parking.
Not only will a visit to the Provision Theater provide an uplifting experience for you and your family, but it will also support an aesthetic vision all too rare in the arts today.
~Happy Thanksgiving and Praise Be to God~