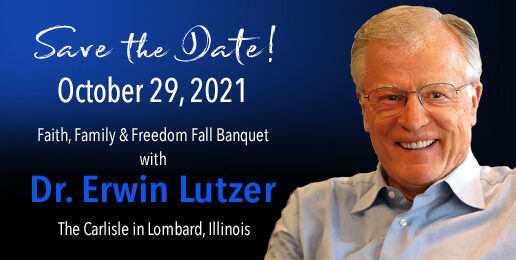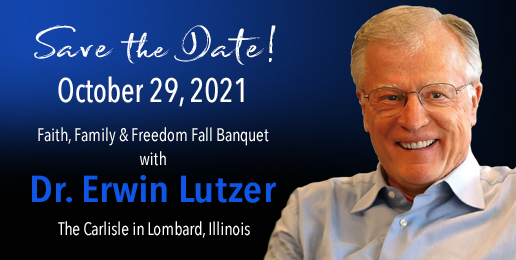 2021 Fall Banquet Early Bird Special Expires Soon!
Illinois Family Institute is pleased to welcome Dr. Erwin W. Lutzer to our Fall Banquet as keynote speaker to share his wisdom, faith, and biblical and cultural insights, much of which he has written about in his two most recent books: "The Church in Babylon" and "We Will Not Be Silenced." His message to serious Christians living in a deep blue state is sure to be timely and compelling.
As Pastor Emeritus of Chicago's Moody Church where he served as senior pastor for 36 years, he has gained much wisdom and knowledge. He understands the times in which we live and has written and preached clearly about the challenges we face in the culture today. His leadership, encouragement, and exhortations are perhaps more important now more than ever in our nation's history.
Dr. Lutzer is an award-winning author of more than 50 books, including: Rescuing the Gospel, He Will Be the Preacher, The Cross in the Shadow of the Crescent, One Minute After You Die, When a Nation Forgets God, and Christian Bookseller's Gold Medallion Award winner, Hitler's Cross.
Dr. Lutzer and his wife Rebecca live in the Chicago area. They have three grown children and eight grandchildren.
You will not want to miss this opportunity to hear directly from a Christian leader who I've (audaciously) termed to be "Chicagoland's favorite pastor."
Faith, Family and Freedom Fall Banquet
"We Will Not Be Silenced"
with special guest, Dr. Erwin W. Lutzer
Friday, October 29, 2021
The early bird special is $60 per ticket. After Sept. 20th, tickets are $75.
Tables of 10 are also discounted before Sept. 20th! 
Secure your tickets or table now – click here or call (708) 781-9328.
Program advertisements & banquet sponsorships available.
Don't Delay – Early Bird Specials Expire on Sept. 20th!
Your attendance and support is essential to our success!
->Click HERE for an event flyer<-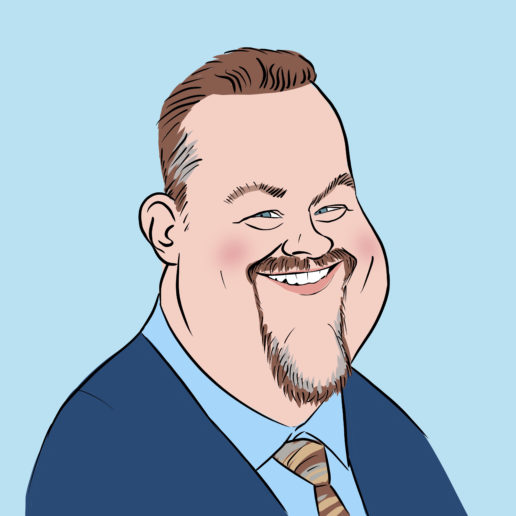 Illinois Family Action
(501c4). David has 25-plus-years of experience in public policy and grass-roots activism that includes countless interviews for numerous radio, television, cable programs and newspaper articles on topics such as the sanctity of life, natural marriage, broadcast decency, sex education, marijuana, gambling, abortion, homosexuality, tax policy, drug decriminalization and pornography. He and his wife of 26 years are blessed to be the parents of eight children. He also serves as a Republican Precinct Committeeman in his community and as an ordained minister and elder in his...