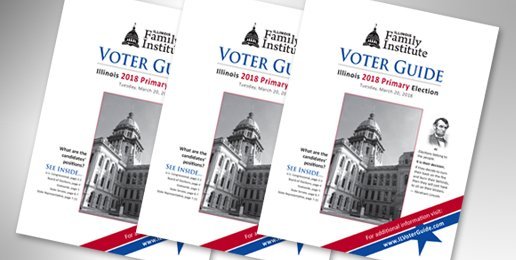 The 2018 Illinois Primary Voter Guide is Here!
The 2018 Illinois Primary Election is right around the corner!  Illinois citizens will choose candidates seeking state and federal offices, including: U.S. House of Representatives, Illinois Governor, and Illinois state lawmakers (House & Senate).
IFI ha,s once again, made available the 2018 Illinois Primary Election Voter Guide to help Illinois citizens make educated and informed decisions about the candidates on the primary ballot. The Voter Guide is non-partisan and is not intended to endorse or oppose any candidate, whether explicitly or implicitly.  It simply provides pertinent information about the candidates themselves (when available), and their positions on issues of importance.
The online version of the IFI 2018 Primary Election
Voter Guide is available for download HERE.
IFI supporters will receive the IFI Voter Guide in the mail by mid-February. If you are not on our mailing list, there is still time to get one for yourself or order some for your church, friends, or relatives. Please contact the IFI office at (708) 781-9328.  Or you can e-mail us.
We are asking for a suggested donation of $25 per one hundred copies ordered to help us recoup the very large costs for this project, but we will accept whatever you can give. Our goal is to get the IFI Voter Guide to as many Illinois voters as possible.
We encourage you to go to the polls on March 20th and vote for the candidates who best reflect your values. It is crucial for pro-family citizens to vote their values and encourage their friends to do the same.
With your help and your personal email contact list, we can make sure that hundreds of thousands of voters are made aware of the IFI Voter Guide. Please send it to everyone you know!  Churches can legally share this 501(c)3 compliant Guide with their entire congregation.
---
Support the IFI Voter Guide
Our get-out-the-vote campaign is up and running. We are distributing the IFI Voter Guide to hundreds of churches, civic groups and tea party organizations. Will you financially support our endeavor to educate Illinois voters and promote family values?  Donate today.