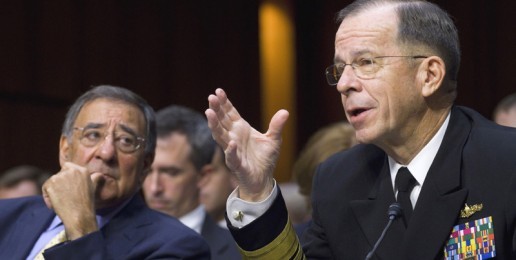 Uncertain Landscape
Reading Time:
4
minutes
By Edward Lee Pitts –World
"Don't Ask, Don't Tell" formally ends, but questions remain concerning long-term repercussions.
The 18-year old law preventing gays and lesbians from openly serving in the military formally ended on Tues., Sept. 20. The long anticipated change came amid at least one formal marriage by a military officer and assurances by top Defense Department officials that the change is inconsequential.
But some Republican lawmakers and other conservatives are worried about the long-term repercussions for both the military and society with the end of "Don't Ask, Don't Tell" (DADT).
"As of today, patriotic Americans in uniform will no longer have to lie about who they are in order to serve the country they love," President Barack Obama said in a statement on the day the new policies went into effect. "As of today, our armed forces will no longer lose the extraordinary skills and combat experience of so many gay and lesbian service members."
The repeal of the legal ban took effect at 12:01 a.m. EDT Tuesday morning. The head of Pentagon personnel released a memo at that time advising that "all service members are to treat one another with dignity and respect regardless of sexual orientation."
Former and current troops celebrated at a San Diego bar, counting down the clock to midnight. A Navy lieutenant married his male partner at a ceremony in Vermont, publicly reciting their vows at midnight.
A lame-duck Congress last December voted to lift the ban during a Saturday vote just weeks before a new, more conservative Congress began its session. Obama then certified in July that the repeal would not harm military readiness. Plus, a 2010 Pentagon review that cited a low risk to military effectiveness in the aftermath of any repeal gave cover to many lawmakers who voted to end the policy
But a 30-page Defense Department document completed in April revealed that Pentagon officials who wrote the report might have deceived Congress. The Defense Department's inspector general concluded that someone possessing "a strongly emotional attachment to the issue" and "likely a pro-repeal agenda" broke security rules and leaked misleading selections of the data to the media.
Last week two top Republicans, House Armed Services Committee Chairman Howard "Buck" McKeon and committee member Rep. Joe Wilson of South Carolina, formally asked Defense Secretary Leon Panetta to delay the formal repeal of DADT.
In a letter, the two lawmakers wrote that Congress has yet to examine the final policies and regulations for implementing the repeal: "Since it is evident that the department does not have final, approved policies in place, we believe it is essential that you take immediate action to delay the implementation of repeal until such time that the review and comment period is completed, that DOD has incorporated the changes suggested during the comment period and that the appropriate regulations needed to implement repeal have been distributed to and are understood by the leaders and key personnel in the field."
The lawmakers also wrote that the military's failure to provide Congress with specifics regarding pending policy changes to such items as benefits "leads us to conclude that decisions on the polices and regulations . . . are not complete. We find it unconscionable that the polices and regulations that provide the guidelines and procedures to be used by service members and their leaders to implement repeal, as well as to protect the interests of all service members . . . remain unpublished."
But top military officers like Air Mobility Command Gen. Raymond Johns continue to stress that the repeal is "not a big deal." Pentagon officials insist that 97 percent military personnel have undergone training about the new law. Applications from openly gay recruits are ready to be processed.
"No one should be left with the impression that we are unprepared. We are prepared for repeal," said Pentagon press secretary George Little.
Still an August letter to the Pentagon from a top gay rights lobbying group reveals that the pressure is already being applied for additional changes. "There is more that you can do," wrote Aubrey Sarvis, the executive director of the Service members Legal Defense Network.
The group's new wish list includes giving "civil rights" protection status to homosexual couples in the military, access to on-base family housing and amenities such as medical facilities for same-sex couples, and legal aid and testimonial immunity for such couples.
The group also is pushing for joint duty assignments, deployment exemptions, and travel privileges for same-sex couples. Underlying these efforts is a larger mission among such groups to use the military's changes as leverage for taking down the federal Defense of Marriage Act.
"With the repeal of 'Don't Ask, Don't Tell,' there will be two classes of service members in the U.S. military," wrote Sarvis in the Aug. 11 letter to Defense Secretary Panetta. "Those who receive full family support, pay and benefits and those who do not. We fully understand that the Defense of Marriage Act prevents the department from extending the same support and benefits to all service members. However, you have the ability, within the confines of that law, to make same-sex married couples and their families eligible to take part in some of the same programs that are available to straight married couples and their families."
This is just one battle that will be waged in the new front opened up by the DADT repeal. Other targeted issues include personal privacy, marriage benefits, and religious rights of conscience.
Already this year, congressional lawmakers had to step in after a Navy memo declared that that same-sex weddings could occur at chapels in states that recognize gay marriage. In response, the House Armed Services Committee in May approved legislation that explicitly prohibits U.S. military bases from being used to solemnize same-sex unions. The committee also approved a measure that bars military chaplains from officiating at gay marriages.
That Navy directive has since been revoked. But it reveals what now awaits the military and its chaplains with the repeal of the "Don't Ask, Don't Tell" policy.
"President Obama made a political promise to LGBT activists, and Defense Department appointees have created a shaky house of cards that is about to collapse," said Elaine Donnelly, president of the Center for Military Readiness.