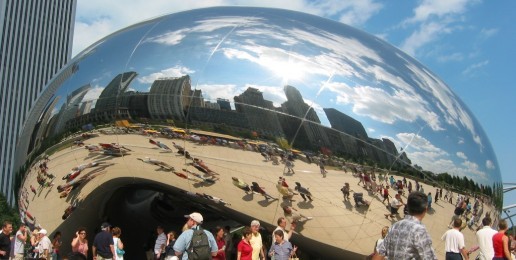 Radical Gay Activists Plan "Great Nationwide Kiss-In Events"
Reading Time:
4
minutes
Illinois Family Institute is issuing a warning to families: Do not take your children to Millennium Park in the vicinity of the "Bean" on Saturday, August 15 at 1:00 p.m. Homosexual activists have planned what they are calling "The Great Nationwide Kiss-In" to take place in various public locations in thirty-five cities around the country to protest public disapproval of homosexuality, including public disapproval of homosexual kissing. Unfortunately, this event is scheduled for the same weekend as the Chicago Air and Water Show which is one of the "largest spectator events in the world" with an average of 2.2 million attendees.
On one website announcing this event, the blogger asks a series of rhetorical questions:
Shouldn't everyone be allowed to kiss? Kissing isn't a bad thing, it's not obscene, vulgar or inappropriate-is it? In fact, it's a beautiful thing, I love kissing and I'm sure you love kissing too! And sometimes I like kissing my sweetie when we're out, so shouldn't we be able to kiss anywhere?
Well, I'll take a stab at answering his rhetorical questions.
I think very few Americans want to pass laws outlawing kissing–even kissing that is obscene and inappropriate. And some kissing contexts are, indeed, obscene, which means "offensive to accepted standards of decency," and inappropriate.
An adult kissing a pre-pubescent child or a high school-age adolescent in a sexual or romantic manner is both obscene and inappropriate despite the protestations of the North American Man Boy Love Association (NAMBLA) to the contrary.
Romantic or sexual kissing between two consenting adults who are in love and who are closely related by blood is both obscene and inappropriate despite the protestations of defenders of incest to the contrary.
Romantic or sexual kissing among "multi-partner" unions, like those profiled in a recent Newsweek article, are both obscene and inappropriate despite the protests of polyamorists to the contrary.
Romantic or sexual kissing between two people of the same biological sex is both obscene and inappropriate despite the voluble, vigorous, and often vitriolic protests of homosexuals to the contrary.
What one considers obscene, inappropriate kissing depends on prior presuppositions. What the public deems inappropriate kissing depends on whether a particular kind of relationship is morally legitimate. And many consider homosexual relationships to be morally indefensible no matter how kind the people involved or how much we love them as individuals.
IFI is not suggesting that homosexual kissing be banned. What we hope is that the public would recover both a proper understanding of the immorality of homosexual acts and the courage to voice that belief, so that public disapproval will be strong enough to persuade homosexuals to voluntarily restrict their kissing to private venues. Many adults do not care to witness obscene and inappropriate kissing, and their children shouldn't have to.
**Parents be warned!** Listed below is a list of venues where our liberal radical friends plan to demonstrate their sexual preference in public. The following cities and towns have CONFIRMED that they will be holding Great Nationwide Kiss-In Events.
Please pass this information on so that families don't inadvertently end up at one of these events with their children. In alphabetical order:
ALBUQUERQUE, NM, at the Civic Center Plaza

ATHENS, GA, at the UGA Arch, UGA North Campus Quad along Broad Street

ATLANTA, GA, Piedmont Park (exact location, TBD)

BOSTON, MA, at the Boston Common, between Park Street MBTA station and the State House

CARBONDALE, IL, at the Town Square Pavilion

CHAMPAIGN/URBANA, IL, at the intersection of Green & 6th Sts. in Champaign

CHARLOTTE, NC, at Freedom Park, near 1900 East Boulevard

CHICAGO, IL, at the Cloudgate Sculpture/"The Bean" in Millennium Park – sponsored by Join the Impact Chicago

CHICAGO/OAK PARK, IL, at Scoville Park, the NW corner of Oak Park Av. and Lake St.

CINCINNATI, OH, at Fountain Square, downtown, 5th & Vine

COLUMBUS, OH, at Goodale Park, on Buttles Ave. – contact information TBA

DALLAS, TX, in the West End, in Rosa Parks Plaza, at Lamar and Elm

DENVER, CO, at the 16th St. Mall, at Glenarm – sponsored by Soulforce in Colorado

EDMONTON, AB (CANADA), by the big fountain in front of the legislature building

ERIE, PA, on the steps of the Erie County Courthouse – sponsored by the Erie Gay News

FAYETTEVILLE, AR, at the plaza between the square and Town Center – sponsored by the NWA Center for Equality

HOUSTON, TX, Discovery Green, 1500 McKinney St.

IOWA CITY, IA, on the pedestrian mall in front of Donnelly's Pub – sponsored by Iowa City Pride

IRVINE, CA, meet in front of Steelhead Brewery, 4175 Campus Drive

LITTLE ROCK, AR, location, TBD

LOS ANGELES/SANTA MONICA, 3rd Street Promenade at Arizona, near Farmers' Market in Santa Monica – sponsored by Love Honor Cherish

MADISON, WI – location, TBD

NEW HAVEN, CT, on the Green

NEW YORK CITY, Battery Park (exact location, TBD)

NORMAL, IL, in front of City Hall, 100 E. Phoenix Ave.

PARKERSBURG, WV, at the Parkersburg City Park, in front of the band shelter

PHILADELPHIA, PA, in LOVE Park, at 16th St. and JFK Boulevard

PHOENIX, AZ, at the end of the Arizona Right To Marry's 97-mile walk for marriage equality, on the lawn of the Arizona State Capitol Building

PHOENIX/TEMPE, AZ, at the Arizona Mills Mall Food Court in Tempe

PITTSBURGH, PA, at 1000 Penn Avenue, on the public space right in front of the Westin portico/driveway on 10th, between Liberty Ave and Penn Ave – organized by Jeremy Hooper of the blog, Good As You, and endorsed by the Netroots Nation Event

PORTLAND, OR, at Pioneer Courthouse Square, SW 6th & SW Yamhill St.

RICHMOND, VA, location TBD

RIVERSIDE/INLAND EMPIRE, CA, at Riverside Plaza, at Central and Riverside Aves. (exit Central off the 91 Freeway) – sponsored by Equality Inland Empire

ST. LOUIS, MO, in front of City Hall – sponsored by F.O.L.K.

SAIPAN, NORTHERN MARIANA ISLANDS,
at the Minachom Atdao Pavilion, across the Ada Gym

SALT LAKE CITY, in Washington Square

SAN DIEGO, CA, Manchester Grand Hyatt, 1 Market Place

SAN FRANCISCO, Union Square, Powell Street

SAN JOSE, CA, at City Hall, 200 E. Santa Clara Street

SANTA BARBARA, CA, on Pardall Rd in Isla Vista – sponsored by UCSB Votes No on Prop 4 and Prop 8!

TORONTO, ON (CANADA) – location, TBD

TULSA, OK, at the Oklahomans for Equality HQ, 621 East 4th Street, sponsored by Oklahomans for Equality

WASHINGTON D.C., on the National Mall, between 3rd and 4th Sts.