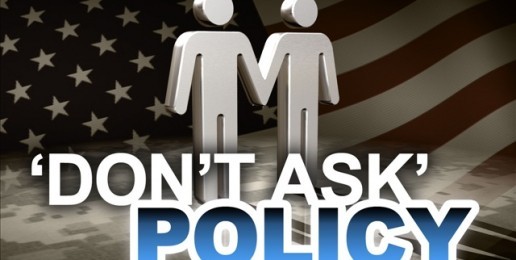 Elaine Donnelly: Gays Leaving Military Not Security Issue
Reading Time:
3
minutes
By Elaine Donnelly –NewsMax.com
On Saturday evening President Barack Obama delivered a speech suggesting that he needs to impose the gay agenda on the military for reasons of national security. That was quite a performance-but no one should be fooled.
Gay activist groups keep focusing on almost 13,000 discharges that have occurred over a period of 15 years, due to the 1993 law stating that homosexuals are not eligible to serve. But under closer examination, the notion that these personnel losses have nearly crippled the All-Volunteer Force simply falls apart.
Newly released Defense Department figures documenting military discharges in the past five years confirm the pattern evident in the previous decade: discharges due to homosexuality affect a minuscule number of troops, and represent less than one percent of personnel losses that occur for other legitimate reasons.
The Congressional Research Service (CRS) recently reported that discharges due to homosexual conduct, averaged over five years, accounted for only 0.32 percent of all losses; 0.73 percent if departures due to retirement or completion of service are excluded. During the previous ten years, 1994-2003, the average percentage of discharges due to homosexual conduct was 0.37. In 2005 the Department of Defense provided additional perspective with figures comparing discharges for six reasons, including homosexuality, for the ten years in question. Highlighting the same categories for the subsequent five years, an interesting pattern emerges.
During the 15 years that almost 13,000 ineligible homosexuals were honorably discharged, three times as many servicewomen (39,454) left the service due to pregnancy. In the same period, the armed forces discharged over four times as many people (55,790) due to weight standard violations, and seven times as many (90,302) for drug abuse. Consistently small percentages of people discharged due to homosexuality contradict any claim that national security emergency requirements justify repeal of the law.
The Gays in the Military Campaign (GIMC) nevertheless claims that service members being discharged for homosexuality include many experienced people with critical skills. On the contrary, Defense Department figures show that homosexuals most often affected were junior personnel, not career service members with years of experience. Almost all of the honorable discharges for homosexual conduct, usually evidenced by statements voluntarily given, are uncontested and processed administratively.
The Secretary of Defense could reduce these numbers to near-zero by complying with current law mandating accurate briefings on the meaning and effect of the 1993 Eligibility Law, which is usually mislabeled "Don't Ask, Don't Tell. Defense Secretary Gates also could exercise his current authority to drop former President Bill Clinton's convoluted administrative policy, "Don't Ask, Don't Tell," and restore "the question" about homosexuality that used to appear on induction forms. Both actions would eliminate misunderstandings, explaining that homosexuals can serve our country in many ways, but not everyone is eligible for military service.
Some gay activists contradict themselves with the claim that the Pentagon suspends discharges of homosexuals when units are deployed during a war. Fabulists claim that discharges declined during the 1991 Persian Gulf War, due to "stop loss" orders suspending the enforcement of regulations regarding homosexuals.
On the contrary, the CRS has reported that a review of discharges during the Persian Gulf War indicates that the alleged pattern was not evident in the data. The CRS further noted that personnel not subject to stop-loss orders to remain in wartime service include soldiers affected by disability, hardship, pregnancy, unsatisfactory performance, and homosexuality.
If a person claims to be homosexual just prior to deployment, an investigation taking as long as eight weeks still must take place. During that time he may be deployed, but if his claim is confirmed, he is returned home and honorably discharged. These rules discourage the possibility of "false claim[s] of same-sex behavior being used as a means of avoiding a mobilization." CRS added that retention of individuals who are not eligible for service is a "violation of federal law."
A related legend claims that openly homosexual troops were retained during the Persian Gulf War, and their success demonstrated that repeal of the 1993 law would not have adverse consequences. In a June Washington Post op-ed promoting repeal of the 1993 law, retired General John Shalikashvili repeated this claim, which apparently originated with the activist Michael D. Palm Center in California.
The fable, however, does not hold up. Lt. Gen. Robert B. Johnston, USMC (Ret.) who served as Chief of Staff, U.S. Central Command (CENTCOM) at the time, would have been privy to any conversation between Joint Chiefs Chairman Gen. Colin Powell and Gulf War Commander Gen. Norman Schwartzkopf authorizing such an accommodation. According to Gen. Johnston and several colleagues then in command, the alleged retention of openly professed homosexuals during the Persian Gulf War never happened.
The Gannett newspapers' annual Military Times Poll found that 58% of active-duty subscriber/respondents supported the 1993 law, for the fourth year in a row. In 2008 10 percent also indicated that they would decline re-enlistment if Congress repeals the law. Such losses occurring in all military components (228,600) would be more than today's active-duty Marine Corps. Before voting to repeal the 1993 law, Congress should focus on the big picture. The loss of even a few thousand experienced personnel would devastate the All-Volunteer Force.