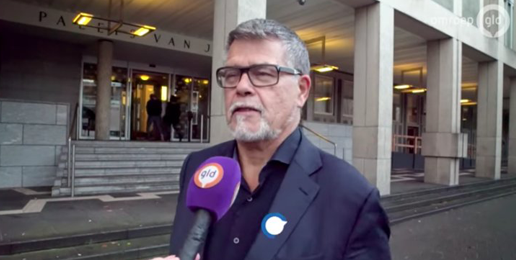 Dutch Man, 69, Starts Court Battle to "Identify" Legally as 49
Some years ago I asked why, in light of the premises of the "trans" superstition, a 50-year-old man with Age Identity Disorder (AID) who identifies as a 17-year-old, has had "medically necessary" face and knee lifts and chemical peels, takes Human Growth Hormone, has had hair transplants that he styles into a pompadour with tapered fade, and wears camo joggers and hoodies couldn't get a spanking new birth certificate and driver's license with his authentic and deeply felt age marker. And why shouldn't such a man be able to enroll in high school and date high school "peers" who must treat him as the age he identifies as? After all, there are no rational reasons for compelling society to pretend that men are women that wouldn't similarly compel society to pretend that old men are young whippersnappers.

Well, peeps, the Age of Unreason and Deep Feeling is fully upon us.
Emile Ratelband, a 69-year-old Dutch "positivity guru," is petitioning a court in the Netherlands to have his birth certificate changed so that it identifies him as 49 years old. Ironically, the judge, who presides over a court in a country that allows "trans"-identifying citizens as young as 16 to obtain falsified birth certificates, asked Ratelband, "how his parents would feel about 20 years of Ratelband's life being wiped off the records." Hmmm. Does anyone ask teenage boys who masquerade as girls how their parents feel about having their sons erased?
Not to be deterred, Ratelband offered this frightening Nietzsche-esque response: "It is really a question of free will."
#transaged #CanOfWorms.
From The Guardian:
Dutch man, 69, starts legal fight to identify as 20 years younger
Written by Daniel Boffey
A 69-year-old Dutch "positivity guru" who says he does not feel his age has started a battle to make himself legally 20 years younger on the grounds that he is being discriminated against on a dating app.
Emile Ratelband told a court in Arnhem in the Netherlands that he did not feel "comfortable" with his date of birth, and compared his wish to alter it to people who identified as transgender.
Ratelband said that due to having an official age that did not reflect his emotional state he was struggling to find both work and love. He has asked for his date of birth to be changed from 11 March 1949 to 11 March 1969.
"When I'm 69, I am limited. If I'm 49, then I can buy a new house, drive a different car," he said. "I can take up more work. When I'm on Tinder and it says I'm 69, I don't get an answer. When I'm 49, with the face I have, I will be in a luxurious position."
Doctors had told him his body was that of a 45-year-old man, Ratelband argued. He described himself as a "young god".
The judge conceded that the ability to change gender was a development in the law. "I agree with you: a lot of years ago we thought that was impossible," he said. But he asked the applicant how his parents would feel about 20 years of Ratelband's life being wiped off the records.
"For whom did your parents care? Who was that little boy then?" the judge asked.
Ratelband, a motivational speaker and trainer in neurolinguistic programming, said his parents were dead.
He also said he was willing to renounce his right to a pension to ensure there were no unforeseen consequences of his age change.
At the end of a 45-minute court session, Ratelband said: "It is really a question of free will."
Ratelband's lawyer, Jan-Hein Kuijpers, said it was high time for the reversal of age.
The public prosecutor in the court asked whether the ability to change a date of birth in the law would require health inspections in the future, to allow the state to correctly judge someone's "emotional age".
Kuijpers told the court: "There is also something like common sense, of course."
Listen to this article read by Laurie: