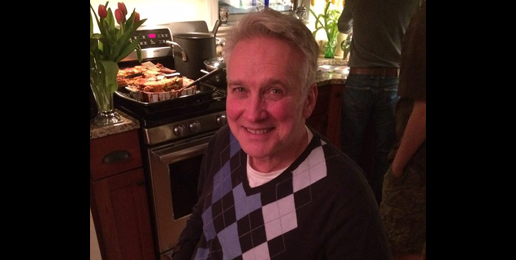 Conversation with Homosexual Journalist
I was part of an extended Facebook conversation with Chuck Colbert, a homosexual journalist from the Boston area who graduated from Notre Dame University but has renounced his Catholic faith and converted to Reform Judaism. He expressed virtually every fallacious claim that homosexual ideologues everywhere express—claims that conservatives should be prepared to refute. In the service of helping to equip IFI readers for such conversations, here are some of his claims (in boldface) followed by rebuttals.
1.) "Jesus said nothing about gay people."

First, Jesus also says nothing about pedophilia, incest, rape, polyamory, sadomasochism, voyeurism, or infantilism. Are we to assume that Jesus, therefore, approved of these types of acts?
Second, arguments from silence are considered weak—if not fallacious—arguments. Anyone who has as much academic training as Colbert claims to have should know that. The fact that Jesus says nothing on a topic tells us nothing about what he thinks on that topic. We do know that Jesus said this:
Do not think that I have come to abolish the Law or the Prophets; I have not come to abolish them but to fulfill them. For truly, I say to you, until heaven and earth pass away, not an iota, not a dot, will pass from the Law until all is accomplished. 
Jesus does not abrogate any of the transcendent, eternal moral prescriptions and proscriptions found in the Old Testament.
2.) "There are more than a few biblical scholars who interpret the passages [about homosexuality] much differently."

Not until the last quarter of the 20th Century did a single scholar in the history of the church interpret any passage in Scripture in such a way as to imply God approves of homosexual activity. Radical reinterpretations of Scripture passages that address homosexuality were not driven by new discoveries. They were driven by the sexual revolution and the sexual desires of same-sex attracted persons. That said, even today, there are homosexual scholars who admit that Scripture is clear that God condemns homosexual activity.
Biblical scholar and expert on the topic of the Bible and homosexuality, Dr. Robert A. J. Gagnon cites two homosexual scholars, historian Louis Crompton and professor of Christian Studies, of Women's and Gender Studies, of Classical Studies, and of Religious Studies at Brandeis University, Bernadette Brooten—both of whom affirm homosexual marriage—who argue that such a position is not consistent with Scripture.
3.) "There was no such thing in biblical times of a positive LGBT identity. The modern understanding of same-sex marriage is different from the biblical times."

There was "no positive LGBT identity in biblical times" because God condemns homosexual activity. God's condemnation of homosexual acts is categorical—no exceptions. Paul tells us that those who affirm such sin as righteousness will not see the kingdom of Heaven.
The hubris of this argument is astonishing. It suggests that there is something that Jesus—who is God, and, therefore, omniscient—didn't know about human nature, human activity, or human experience.
4.) "The fact is that many, many LGBTs have been married within their various faith communities; their children are doing just fine. Take some time to get to know real LGBT people."
Though homosexuals may be "married" legally, they are not in reality married because marriage has a nature, which Jesus himself said is the union of one man and one woman.
Getting to know those in faux-marriages does not change the Word of God.
How we feel about people has nothing whatsoever to do with a moral assessment of volitional acts. Colbert's suggestion "to get to know real LGBT people" reveals that to him the experiences of fallen humans supersede Scripture when it comes to homosexuality.
Does he apply that principle consistently? Would he, for example, recommend that people who disapprove of consensual adult incest take some time to get to know two brothers who are in love and raising kids together as a means to eradicate their disapproval? Would he suggest "getting to know" the five people of assorted sexes in a poly union as the means by which to assess the morality of polyamory or poly-parenting?
Intentionally denying children either a mother or father is unconscionable no matter how nice the two parents are. In addition to the intrinsic right of children to be raised whenever possible by a mother and father, there are a number of studies that indicate children being raised by homosexuals are not fine—and some of these studies are far better studies than those worshipped by the homosexual community. The "LGBTQ" community savages these studies by applying standards that they never apply to studies whose results they like.
For example, homosexuals—including Colbert—frequently tout a study on lesbian parenting without citing the serious structural problems with the study including small sample size, method of selecting participants (i.e., "convenience sampling" vs. far superior "random sampling"), self-reporting nature of responses, absence of a control group, and failure to do long-term follow-up testing.
For research that contradicts the claim that children raised by homosexuals fare as well as children raised by mothers and fathers in intact families, click here, here, here, and here.
5.) "LGBTs are active and productive members within their communities. As more and more people get to know and understand gay people, they see that we are just as good as everybody else. I am sure God is fine with 'their behavior.'"

The fact that homosexuals do good things tells us precisely nothing about God's view of homosexual acts. Virtually all sinners do good things as well.
No one is good. Romans 3: 10-12: "None is righteous, no, not one; no one understands; no one seeks for God. All have turned aside; together they have become worthless; no one does good, not even one."
6.) "Why would you care anyway? LGBT life has no adverse effect on your life anyway."
The homosexual and "trans" community really must stop disseminating the patent lie that widespread cultural approval of homosexual activity, the legal recognition of intrinsically non-marital unions as marriages, and acceptance of the "trans" ideology affect only the parties involved. Here are just some of the adverse effects that harm countless lives:
Lies that destroy temporal and eternal lives are being disseminated as truth.
Children are being denied their intrinsic right to be raised by a mother and a father.
Children are being fed the lie that either mothers or fathers are dispensable.
Government schools are teaching implicitly and explicitly the lie that disapproval of homosexual activity constitutes hatred of persons.
Schools are now teaching kindergartners about homosexual relationships—rather, they're teaching children leftist ideas about homosexual relationships.
Schools are teaching that biological sex has no intrinsic or profound meaning, including regarding feelings of modesty and the desire for privacy in private spaces.
A feckless school board (April 27, 2018 Brabrand Briefing.pdf) in Fairfax, Virginia has proposed replacing the term "biological sex" in the health curriculum for grades 8-10 with the nonsensical, science-denying term "sex assigned at birth." Apparently, board members aren't "woke" to the fact that doctors don't assign sex. They identify it.
Government schools are mandating that faculty lie, ordering them to refer to students who masquerade as the opposite-sex by incorrect pronouns.
Government schools are engaging in absolute censorship of resources that dissent from "LGBTQ" dogma even as they present resources that affirm it. That's not education. That's indoctrination.
Professors are losing their jobs for expressing conservative or theologically orthodox views on sexuality and marriage.
Christian owners of wedding-related businesses are being sued.
The Boy Scouts of America was forced to accept openly homosexual scouts and leaders, and then girls who pretend they're boys.
Public libraries now have drag queen story hours for toddlers, and little boys dressed in drag march in the shameful "pride" parades that deface our once-great cities every June.
"Progressives" like New York Times writer Frank Bruni have reinterpreted First Amendment religious protections to be limited to pew, home, and heart.
Adoption and foster care agencies have been forced out of business for refusing to place children in the homes of homosexuals.
Corporate America, professional medical and mental health organizations, the mainstream press, and the arts promote the pro-homosexual/pro-"trans" ideology.
While leftists express their views of homosexuality freely at work, even starting pro-homosexual clubs and slapping silly safe space stickers on work spaces, conservatives risk loss of employment for expressing their views.
Brendan Eich was forced out of his job at Mozilla, the company he founded, for donating to Prop 8—the California proposition that would have banned homosexual marriage.
Minors are being surgically mutilated and chemically sterilized in a futile quest to mask their sex.
The homo/"trans" ideology not only affects but also harms everyone.
7.) "Gay people are in nature so how can they be against natural law. There have been gays throughout history."
There are diverse definitions of the word "natural." Colbert seems to be using it in the sense of "found or existing in the world," which is not how it's used in natural law theory. Natural law refers to the design of humans which points to their intended purposes (i.e., teleology).
All manner of disordered desires and deviant activities exist in nature, including all sorts of "paraphilias." Would Colbert argue that because some humans exist who desire to be hurt or hurt others, to expose their genitals, or to have sex with toddlers that these phenomena are natural—in the natural law sense—and worthy of affirmation?
8.) "Your view for LGBT Christians is pretty judgmental. Take a look at the planks in your eyes before you go after the specks in LGBTs' eyes.Judge not, or you will be judged."
The erroneous claim that the Bible prohibits making judgments between right and wrong must be examined in light of the following verses: "Do not judge by appearances, but judge with right judgment" (John 7:24), and "The mouth of the righteous utters wisdom, and his tongue speaks justice" (Psalm 37:30).
The verse that says, "Judge not, that you be not judge" means that we are not to engage in unrighteous judgment. We are not to condemn hypocritically a sin that we are engaging in. We're to recognize the universality of sin and offer forgiveness as we have been forgiven. This verse does not entail a refusal to judge between right and wrong behavior. It does not prohibit humans from making distinctions between moral and immoral conduct.
It's absurd to claim that the Bible prohibits Christians from making statements about what constitutes moral conduct (i.e., to judge). If it did mean that, we could not say that slavery, racism, bestiality, polyamory, selfishness, fornication, adultery, aggression, incest, lust, or gossip is immoral, for surely those moral propositions constitute the kind of judging that repels critics like Colbert.
Everyone does and should judge right from wrong. Every civilized human makes judgments every day between right and wrong actions. Christians have no moral authority to judge the salvific status of others, but Christians have every right to discriminate between right and wrong actions and to express those beliefs publicly. The ethical legitimacy of public speech is not dependent on the subjective response of those who hear such expressions.
As he railed against judgmentalism, here are some of the terms Colbert used to describe those who disapprove of homosexual acts: "self-righteous," "sanctimonious piety," "condescending attitude," "rabid," "bigoted," "prejudiced," and "hateful."
9.)  "I did not choose to be gay anymore than you chose to be, presumably, straight. Being gay has nothing to do with a choice."
While erotic attraction to persons of the same sex is not chosen, acting on those feelings is, indeed, chosen. Humans experience myriad powerful, persistent, unchosen feelings. Our task as moral beings is to determine on which of those feelings we are morally justified to act. And that task requires some arbiter of morality—some basis on which to judge right from wrong.
10.)  "I am not defying God. God does not condemn gay people, our lives and our love. God is fine with his creation of gay people."
On what basis can Colbert make the claim that he is not defying God? He can't rationally make such a claim based on either the plain words of the Old or New Testament.
God does, indeed, condemn homosexuals as well as many others. God condemns anyone who rejects the work of Christ on the Cross. One of the clearest signs of being saved from God's wrath is repentance. Doing the will of the Father and confessing when we fail are signs that we are saved. Perpetual embrace of that which God condemns and calling that which God condemns "good" are sure signs that one will not see the kingdom of Heaven:
Or know ye not that the unrighteous shall not inherit the kingdom of God? Be not deceived: neither fornicators, nor idolaters, nor adulterers, nor effeminate, nor abusers of themselves with men, nor thieves, nor covetous, nor drunkards, nor revilers, nor extortioners, shall inherit the kingdom of God. (1 Corinthians 6:9-10)
God creates men and women. Through the fall of Adam, all of us are born with a fallen nature and are in need of redemption. While God for a time allows the disordering of his creation, he no more created in humans homoerotic desire than he created in humans adulterous desire, polyamorous desire, incestuous desire, "minor-attraction," murderous desire, the desire to be an amputee, the desire to gossip, pride, covetousness, or physical anomalies.
If Christians truly love their neighbors as themselves, they should be prepared to respond courageously to claims like Colbert's. Authentic love depends on knowing first what is true.
Listen to this article read by Laurie:
---
Subscribe to the IFI YouTube channel
and never miss a video report or special program!