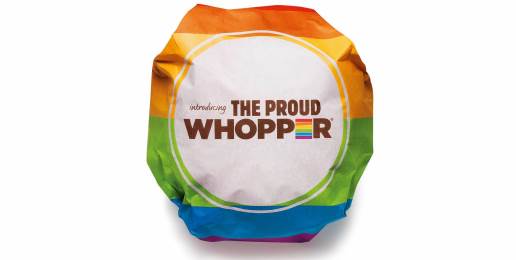 Burger King Broils Family Values with New "Proud Whopper"
Burger King is the latest corporation to bow before the throne of the homosexual agenda. A California Burger King store this past week introduced the "Proud Whopper," the fast food chain's iconic burger decked in a rainbow colored wrapper with the phrase "We are all the same inside."
According to USA Today, the "Proud Whopper" will be sold through July 3rd at the San Francisco store that was at the heart of the route for last weekend's 44th annual San Francisco Pride Celebration & Parade for which Burger King is a sponsor.
"It showcases who we are as a brand," says Fernando Machado, senior vice president of global brand management at Burger King. "It shows how we, as a brand, believe in self-expression."
Signs of Burger King's shift were recently evidenced by the announcement that the company's slogan was changing from "Have it your way" to the phonetically awkward "Be your way."
Burger King said in a statement that their new motto was intended to remind people that "they can and should live how they want anytime. It's ok to not be perfect … Self-expression is most important and it's our differences that make us individuals instead of robots."
Self-expression is one thing, but who needs a message about sexuality right before one's about to eat? There is no need to tolerate BK shoving their leftist morality down our throats—literally. After all, there are plenty of other competitors whose morals have not yet been burned.
TAKE ACTION: Contact Burger King and let your "self-expression" be clear that you're disappointed in their recent moves that advocate for sexual immorality. Note: on the Burger King Contact page, for the question, "What type of feedback do you want to share?" select "General." Or call their corporate office toll free at 866-394-2493.