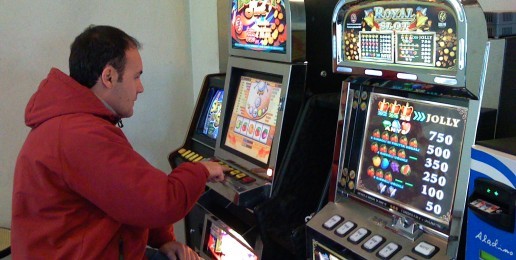 Attention DuPage County Residents!
The DuPage County Board has introduced an ordinance to ban video gambling machines in the unincorporated areas of the county. They will vote on the issue at their Tuesday, August 11 meeting in Wheaton.
It is rare when the State Journal-Register newspaper in Springfield agrees with us, but they recently published an editorial in support of board members in DuPage County and Peoria County who are working to pass ordinances to ban the addictive gambling machines. (See below.)
Take ACTION: Please make a phone call or send an e-mail message TODAY to your DuPage County Board member urging them to support this ban on video gambling.
Paul Fichtner – District 1
PFichtner@dupageco.org
630-251-7883
Rita Gonzalez – District 1
rita.gonzalez@dupageco.org
630-456-1792
Donald E. Puchalski – District 1
rita.gonzalez@dupageco.org
630-543-2320
Patrick J. O'Shea – District 2
630-620-8551
Jeff Redick – District 2
jredick@dupageco.org
630-607-9681
Brien Sheahan – District 2
bsheahan@dupageco.org
630-728-4641
John Curran – District 3
john.curran@dupageco.org
630-541-7588
Kyle A. Gilgis – District 3
kgilgis@dupageco.org
630-969-3857
Michael F. McMahon – District 3
mmcmahon@dupageco.org
630-261-9000
Grant Eckhoff – District 4
geckhoff@dupageco.org
630-510-0660
JR McBride – District 4
jmcbride@dupageco.org
630-790-1040
Debra Olson – District 4
dolson@dupageco.org
630-221-9593
John Zediker – District 5
jzediker@dupageco.org
630-697-3062
James D. Healy – District 5
jhealy@dupageco.org
630-655-6000
Tony Michelassi – District 5
anthony.michelassi@dupageco.org
630-788-8338
Dirk Enger – District 6
dirk.enger@dupageco.org
630-588-0344
Linda A. Kurzawa – District 6
lkurzawa@dupageco.org
630-234-6682
James F. Zay – District 6
jzay@dupageco.org
630-876-8601
If you are unsure of the District in which you live, see map at http://www.dupageco.org/cobrd/generic.cfm?doc_id=291
Read more:
Our Opinion: Governments should reject gambling law
THE STATE JOURNAL-REGISTER

They say desperate times lead to desperate measures, and we saw no better indication of the state's desperation to pass a capital construction plan than the inclusion of legalized video gambling as a funding source.

Barely three weeks after Gov. Pat Quinn signed the bill that will soon turn willing bars, restaurants and other establishments into mini-casinos, we're already seeing hints of trouble related to legalized video gambling.

Both Peoria and DuPage counties are considering banning it in the unincorporated areas over which they have jurisdiction.

"What you don't see is how much it costs on the other side. People gamble away money, and families are left short.

People least likely to afford it are the ones who are going to participate," said Peoria County Board member Carol Trumpe.

Here in Springfield, Veterans of Foreign Wars Post 755 on Old Jacksonville Road says the new law could put it out of business when the state begins taking 30 percent of the proceeds from its video poker machines.

The Illinois Gaming Board, meanwhile, still is figuring out how to enforce the new law to ensure that the state gets its cut and all paying machines are properly licensed.

Chicago Mayor Richard Daley this week cautioned counties and municipalities to not opt out of the video gaming law, saying that doing so will deny the state revenue it needs to fund construction projects in the capital plan.

We disagree. In agreeing to give the state's blessing to this massive expansion of gambling, the General Assembly and Gov. Quinn took the easy way out. Their desperation to deliver a capital plan led to their handing us this highly addictive form of gambling. Opting out of the law is the strongest signal local governments can send to their lawmakers that they don't want this in their communities.

In May, we urged Quinn to veto any capital bill that contained video gambling as a funding source.

We've been skeptical all along of the revenue projections and we believe the potential social costs are far beyond those of casino gambling (which, arguably, draws gamblers from out of state rather than around the corner).

We salute any local government brave enough to tell their state lawmakers that they won't accept this desperation measure. Perhaps if Mayor Daley's fears prove founded, the General Assembly will be forced to find another, more responsible, way to pay for this state's infrastructure needs.

http://www.sj-r.com/editorials/x262899401/Our-Opinion-Governments-should-reject-gambling-law